Looking for a new Broadband Provider! Check our Comparison of the latest offers
Deciding on a Broadband provider Is not easy with a constant stream of new deals being offered. There are various factors that need to be considered whey looking for a new provider:
How long do you want the Broadband?
How much can you afford?
Do they put the customer first?
Do they provide a good service?
Is it good value for money?
Will you need new hardware or phoneline?
We have compared the main Broadband providers to see who offers the best value for money, speed and flexibility.
Weekly Broadband
Sky
Vodaphone
BT
Plusnet
NOW
Direct Save
Pay weekly
No fixed contract
Minimum term
1 month
18 months
24 months
24 months
18 months
1 month
1 month
Cost

From

£26 a month

From

£27 a month

From

£25 a month

From

£31.99 a month

From

£27 a month

From

£23 a month
£39.95 a month
Offer monthly rolling contracts
Phone line included
Optional
Unlimited Broadband
Speed
40mb
59mb
63mb
67mb
36mb
11mb
40mb
(updated: 29th October 2020)
There are numerous options to select from but if you are basing your decision on price, don't be tricked in to being tied into a long term Broadband contract to get a good price. Weekly Broadband offer a 'no contract Broadband', meaning you can cancel at any time with no penalties, and the price is competitive.
Monthly Broadband plans with no contract are not promoted by BT, Sky, Plusnet, Vodaphone or most other Broadband providers in the UK, as they want you to commit to a long term contract with them so you can't leave.
They don't offer flexible options with rolling monthly terms and are not always clear about the extra add-ons you need as part of the package.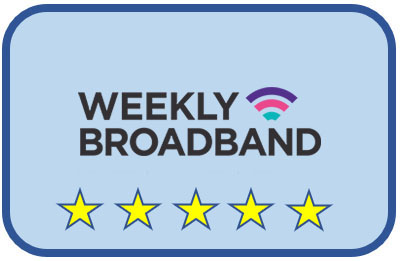 We recommend
Broadband Freedom recommends Weekly Broadband as the best Broadband provider in the UK, as their simplistic and flexible approach puts the customer first. No complex deals, no prices changes, no contract Broadband without a landline and cancel when you want.