Broadband and the Cost of Living Crisis
The cost of living is rising. Millions are struggling to make ends meet. Many of whom may be wondering whether to expect price hikes in other areas. We took a deep dive into the latest research from reports by various authorities to give you all the important info! 
In this blog post, we'll share statistics and summarise the latest news about the broadband sector during these trying times. Don't worry! This isn't a sneaky way of telling you our prices are going up. They aren't! It's just to give you the full picture of what's going and what you should expect.
Some Statistics
The House of Commons published a report about some of the driving factors behind increased inflation. It showed that the Consumer Prices Index (CPI) was 7.0% higher this March than the year before. Increased consumer demand and supply chain bottlenecks are one of the reasons for this.
But do these cost of living factors affect your broadband prices? Well, with more people working from home than ever before, there's never been more demand for faster home broadband. The Cisco Broadband Index found that 71% of UK respondents believed access to fast, reliable broadband is vital for everyone.
The demand is certainly there. But surely the supply of faster, more reliable broadband is able to keep up with this demand?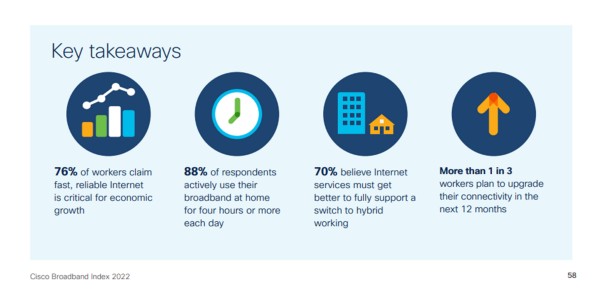 The global shortage of microchips worried industry suppliers last year. Router manufacturers such as Zyxel (they supply routers to Zen Internet) claimed that home broadband equipment could face shortages. However, there's not been any router shortages reported so far. But we'll update you if this changes. Although, this is unlikely as experts predict the shortage will soon come to an end.
We've summarised Ofcom's report to show you how the cost of living may impact the affordability of your broadband services.
1.) 5% of all households are not confident they can pay for broadband 
At the time that they conducted research for their report, Ofcom stated the following:
93% of UK households are confident that they can pay for their broadband in the next three months.
Whereas 5% of all households claimed otherwise, following the cost of living crisis.
17% of those come from lower income households (around £10,399.00 per year).
As well as 14% of households who rely on benefits as their sole source of income.
And 15% of households with a resident that has a limiting condition.

What you should do if you feel you can't pay
If you feel unconfident about paying your broadband bills you can:
Contact your provider and they may offer you a range of options to help you out. 
If you're in a lower income household and/or receive benefits you may qualify for cheaper options. If this is the case, read our post on lower income broadband alternatives for more information on what to do.
Read our helpful guide for people with limiting conditions and disabilities for more information about your options.

Figure 1 Shows Vulnerable Groups (taken from Ofcom's Affordability of Communications Services Summary Report
2.) One in five households who struggle to pay for broadband have experienced the following: 
Cancelled services they can no longer afford.
Made changes to services to make them more affordable.
Reduced spending costs of other items like food or clothing.
Missed payments.
Made changes to the way they pay for their services (using overdrafts, savings, credit cards, loaning/borrowing money and entering a repayment plan).
What you should do if you've experienced one of these or if you're considering them
Before you cancel your broadband service you must first know your consumer rights. You want to avoid incurring a penalty for leaving a contract early.
Speak to your broadband provider if you're struggling to pay for services. For more information on your rights visit Citizens Advice.
If you need to cut your services keep ones that are essential. For example consider Freeview instead of TV packages with your broadband.
Contact your provider before you consider reducing other essential costs (i.e. food) or miss payments. Here's some helpful advice from Citizens Advice if you're struggling with the cost of living and broadband expenses.
3.) Some more insights 
4% of households (1 million) currently struggle paying for their smart phone. 
3% of low income households cancelled their broadband services. 
5% still do not access broadband services, relying on mobile internet instead. 
4% of children relied on mobile internet for home learning during the pandemic. 
One in five children do not have consistent access to suitable devices for home learning.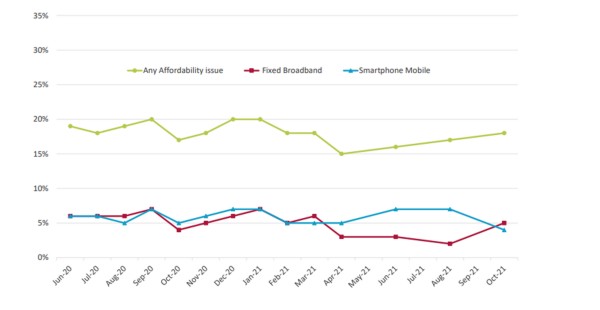 How we're going to help you
Whether you're a customer of Broadband Freedom or not, we're going to help you through these tough times. We'll keep you updated with the latest news in our sector. With special attention to all things broadband. We'll also keep a look out on the latest about phones and similar topics and anything we thing can alleviate financial burdens.
It's easier to make the best decisions when you're informed. You'll be better prepared for any unexpected price hikes. Or know what's within your right to do without incurring any penalties from providers. We'll even show you how to find the most valuable deals that suit you best.
This blog post is the first of a series that is aimed to help you with your broadband amidst the rising cost of living. Here's some of what will follow in our next posts:
Are broadband prices going up in 2022?
10 ways to save on your broadband costs
Can you get free broadband on universal credit?
Can I get free (or discounted) broadband for my business?
What are the cheapest broadband and phone packages?
Are there cheaper broadband options for lower income families?
The best broadband providers for customers with disabilities