USwitch Gets Satellite Broadband Survey Wrong
Uswitch Claims Millions Of Brits To Follow Musk Into Orbit
USwitch recently conducted a survey and published some questionable statistics. The UK-based comparison service claimed almost one million British homes currently used satellite broadband. According to the article, two-thirds of those surveyed lambasted the extortionate £500.00 setup fee for Starlink.
Starlink is the name of one of many of Elon Musk's projects. The maverick billionaire launched the satellite internet constellation in a bid to decrease latency and boost broadband speeds. Only, industry experts are somewhat astonished by USwitch's claims and are yet to find evidence to substantiate them. It seems if anyone's joined Musk in orbit, it's the folks over at USwitch.
How Did USwitch Get It Wrong?
The numbers are ludicrously high, especially when we consider the statistics for current satellite broadband usage. You only have to look back to a few months ago at an Ofcom statement. They reported GSO satellite customer subscriptions only numbered in the 'low tens of thousands.' Tech experts writing for ISPreview agreed with Ofcom's estimation.
Following investigations of their own in the company data of Bigblu, tech writers discovered markedly smaller numbers undermined USwitch's claims. Bear in mind, this data covered a period before Bigblu diversified its services and was acquired by Eutelsat, at a time when the company was at the pinnacle of its satellite broadband services. Labelled one of the largest satellite ISPs worldwide, Bigblu only had several tens of thousands of subscribers. We say "only" because these customers spanned the majority of Europe, not just the UK.
Outlandish numbers can often and easily be overlooked. Particularly when the writer is not fully informed. Broadband writers should pick up on statistics that appear unusual though, or at the very least conduct further research to correlate their information with proven facts. Some inaccurate content can slip through the nets from time to time. That's the reason why companies employ editors. So how did Uswitch – a company that exists to give its readers accurate statistics – get their numbers astronomically wrong?
The Survey
We collected the following information from USwitch's notes to their editors. USwitch used a National Representative sample, consisting of 4,002 UK adults surveyed between May and June of this year. The survey asked respondents: 'What is your current broadband connection?' In response to this, 5% of the respondents replied 'satellite broadband". That's 189 people out of a total of 4,002.
USwitch then divided 189/ 4,002 to get 0.047 and multiplied by 100 to get a percentage of 4.7. They applied 4.7% as a percentage of 27.6 million UK Households (the most recent number from the Government's census). 4.7% of 27.6 million = 1.3 million UK households.
Phew *wipes brow* quick maths…
Yet the numbers originate from a nationally representative sample. This means that the 4,002 UK adults surveyed by Opinium (the market research agency) represent the entire UK population. The inconsistency arises when 189 people (or 5% of the UK population) claim their service is satellite broadband. At this point, it should have been apparent to the team at USwitch that that percentage was unusually high.
For some context; Virgin Media first rolled out fibre-optic broadband in 2008. Thirteen years later just under 25% of UK homes currently access full-fibre broadband. Much of the UK still relies on old technology.
Starlink is still in its infancy and satellite broadband in general. Expensive prices and limited availability in the UK are a testament to how young this technology is for home broadband. 
Accident Or Agenda?
Some commentators believe USwitch "sticking to their headline" is the main reason why there's been no amendment to their article. The title contains "Elon Musk" and "Up to One Million Brits". It's worded in a way to not only grab readers' attention but for the content to gain traction online. Of course, these features are the standard hallmark for news articles and blog posts. Yet fake news undermines the whole purpose of text written to inform readers with truth.
Think Broadband, the UK's largest broadband news and information site, suspects repeated references to Musk and Starlink as mere hype. Perhaps USwitch believed these keywords would push the content up in the search ranking. Despite the validity of their claims, there's no definitive proof that this is the case. Although the fact that USwitch has not peddled back on these statistics is questionable, even if the numbers add up. As a comparison service that often deals with the communications sector, they should literally know better. Given some basic knowledge of the industry, they'd have enough context to produce informed content.
Another possibility is this is all just a big mix up. Think Broadband and ISPreview believe that some of the respondents provided inaccurate data. Not intentionally but purely by accident. Maybe some people were under the pretence that their broadband is connected via satellite on account of Sky's TV dishes. Or they simply misinterpreted or misread the question. Yet this begs the question (considering the points we've explored) why no one at USwitch followed up with these people?
Any More Absurd Claims By Uswitch?
Thankfully, not all of the findings in the survey are lost on the rest of us. Other data from the survey shows key indicators of consumer sentiment towards satellite broadband. We've already looked at how people living in rural areas endure the relentless frustration of slow and unreliable broadband.
14% of rural respondents agreed that satellite broadband could alleviate issues with their services. 75% of respondents claimed to have never heard of any satellite broadband options. 76% believed the UK does not currently offer satellite broadband as an option. And 46% agreed that unpredictable weather played a major factor as to whether they would get satellite broadband.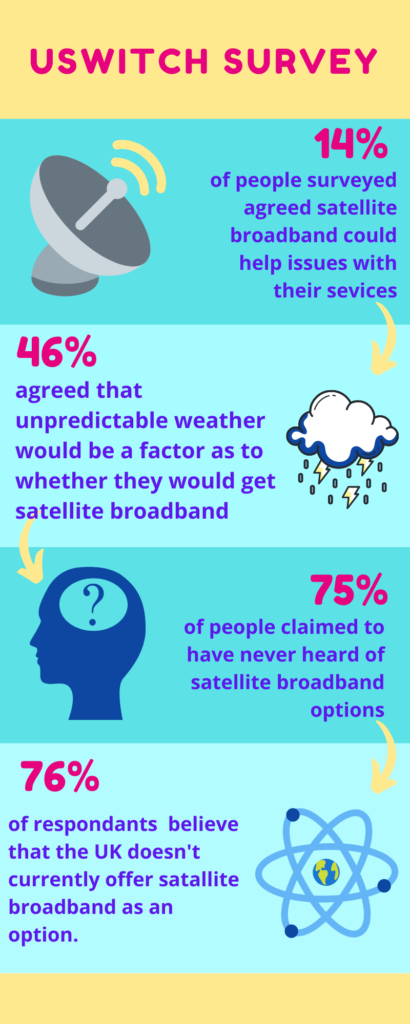 What Do You Think?
Should USwitch address these absurd claims? Do you agree with our friends over at ISPreview, who demand tougher quality standards from Ofcom and the ASA? Or do you think this has been blown way out of proportion?
All we know is it's an exciting time for broadband. Newer technologies promise to deliver faster, more reliable and efficient broadband. We believe with the techy mini-revolution, broadband companies should adopt new practices too.
We pride ourselves on providing our customers with flexibility and the Freedom to choose Broadband that's right for them!
So, move over Musk and watch this space.